Amazon Elastic Compute Cloud (EC2)
Overview
SMARTUNIFIER (SU) supports deployment using an Amazon EC2 Instance on the AWS Cloud. This guide steps you through the process of creating the needed AWS resources and the deployment of SMARTUNIFIER Manager on an Amazon EC2 Instance.
Cost and Licenses
SMARTUNIFIER charges you per running SU Instance. There are no charges for running the SMARTUNIFIER Manager. If you don't have a licence yet, contact info@amorphsys.com.
You are responsible for the cost of AWS services used in the reference deployment of this guide. For cost estimates, see the pricing pages for each AWS service this guide is using. Some cost can be minimized e.g., by opting for a smaller Amazon EC2 Instance type.
Architecture
This guide will set up the following SMARTUNIFIER environment on AWS:
A virtual private cloud (VPC) configured with one Availability Zones (AZ), with public and private subnet.

Appropriate security groups for each instance of function to restrict access to only necessary protocols and ports.

SMARTUNIFIER Manager running on an EC2 Instance is located in the private subnet.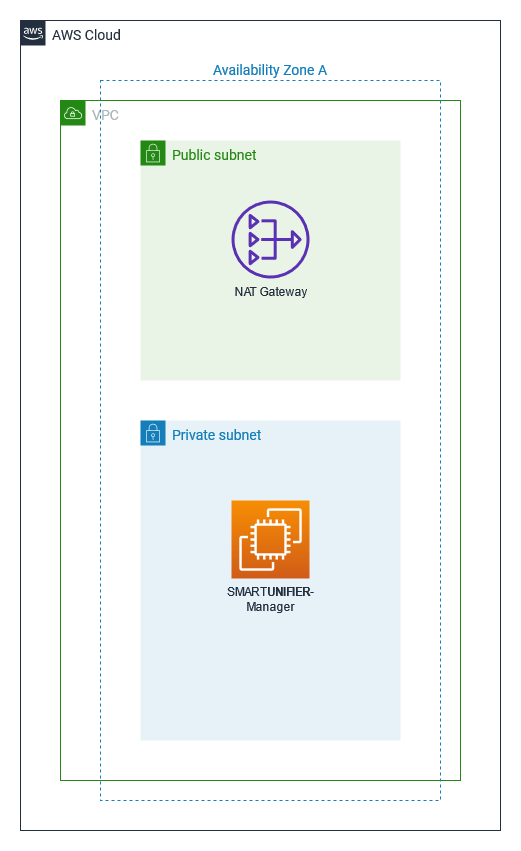 You can also deploy SMARTUNIFIER into your existing VPC.
Prerequisites
AWS account
If you don't already have an AWS account, create one at https://aws.amazon.com by following the on-screen instructions. Your AWS account is automatically signed up for all AWS services. You are charged only for the used services.
Specialized Knowledge
Before deploying and operating the SMARTUNIFIER Manager on Amazon EC2, it is recommended that you become familiar with the following AWS services (If you are new to AWS, see Getting Started with AWS):
Planning the Deployment
Before you deploy SMARTUNIFIER on AWS, please review the following sections for guidelines on instance types, storage and high availability / disaster recovery.
Deployment Options
There are two options available for the deployment:
Deploy SMARTUNIFIER into a new VPC (end-to-end deployment). This option builds a new AWS environment consisting of the VPC, subnets, security groups and other infrastructure components.

Deploy SMARTUNIFIER into an existing VPC. This option provisions SMARTUNIFIER in your existing AWS infrastructure.
Storage
We recommend using an EBS volume since it is persistent, even in the case of instance termination or crash. Using EBS volumes help to ensure high availability and durability for the instance.
Volume Type: General Purpose SSD (gp2).

Size (GiB): 8.
Instance Selection
Which instance type to use depends on how much workload will be delivered to the instance. For information on instance types, see the AWS Website. The workload is dependent on the complexity of the integration scenario within SMARTUNIFIER . It also can be measured based on the total amount of managed SU Instances.
| Instance type | SU Workload (Number of SU Instances) |
| --- | --- |
| t2.micro | <= 5 |
| t2.small | <= 20 |
| t2.medium | <= 100 |
| t2.large | > 100 |
Deployment Steps
Single-AZ Deployment creating new VPC - expected deployment time: 10-20 min
Backups
Manager Repository and Database
Repository
Every artifacts (Information Models, Communication Channels, Mappings, Device Types and Instances) created with SMARTUNIFIER are located in the repository directory.
We recommend to make regular backups of the repository. Follow the steps below in order to backup the repository:
SHH into the EC2 instance, which is running SMARTUNIFIER Manager.

Change into the SMARTUNIFIER Manager directory.

Copy the repository directory to a suitable location.

Database
Databases in SMARTUNIFIER are used to store Deployment Endpoints and User Accounts. Credentials of users are stored in separate Keystore file.
It's recommended to make regular backups of the database unifier.mv.db. Follow the steps below to backup the database:
SHH into the EC2 instance, which is running SMARTUNIFIER Manager.

Change into the SMARTUNIFIER Manager directory.

Change into the conf directory.

You can now copy the unifier.mv.db database file to a suitable location.

EC2 Snapshots
We recommend to create a Snapshot of the EBS volume which is attached to the EC2 instance that runs SMARTUNIFIER . Follow the guide on how to create an Amazon EBS snapshot how to create an Amazon EBS snapshot.
If SMARTUNIFIER is not in use and you don't want to be charged for EBS volumes, delete the EBS volume after creating a snapshot.
Recovery
It's recommended to use Amazon CloudWatch with recover actions in order to recover instances in case of an instance failure.